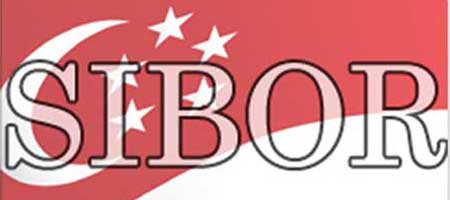 What is SIBOR?
SIBOR is the acronym for Singapore InterBank Offer Rate. In layman terms, it simply represents the interest rate that Singapore banks charge to lend to each other. SIBOR is regularly used as a reference rate where loans are pegged to. SIBOR is set daily (working days) by the Association of Banks in Singapore and is publicly available on Association of Banks in Singapore website. In general the shorter the time period SIBOR is based on, the lower and more volatile the interest rate. The popular 3 Month SIBOR rate is currently around 1.12% with rates accurate as of Sep 2017.
What about SOR, Fixed Deposit Linked Rates, Combo, etc?
SOR is the acronym for Swap Offer Rate and is basically the interest rate a borrower will be charged if he or she were to borrow in US dollars. Fixed Deposit Linked rates are reference rates that are based on a bank's fixed deposit rates while Combo Rate is a combination of SIBOR and SOR.
All of the mentioned rates are reference rates where loans are priced in but SIBOR remains the most popular reference rate for loans to be priced in due to its transparency. Hence, any movement in SIBOR rates is closely monitored as it could affect repayment of loans and also financial markets. It is also worth noting that all these reference rates usually move in tandem with each other in the same direction. See SIBOR vs Fixed Deposit Linked Rates vs SOR vs Combo for a more detailed discussion about how to choose the best reference rate for loan packages.
3 Month SIBOR Rate History Chart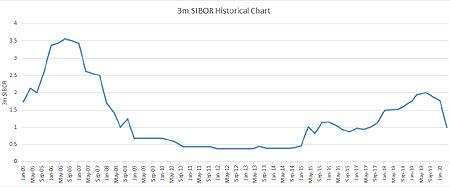 3 Month SIBOR Rate Historical Data for Past Year
| | | | | | |
| --- | --- | --- | --- | --- | --- |
| Sep 16 | Oct 16 | Nov 16 | Dec 16 | Jan 17 | Feb 17 |
| 0.87% | 0.87% | 0.87% | 0.92% | 0.97% | 0.96% |
| Mar 17 | Apr 17 | May 17 | Jun 17 | Jul 17 | Aug 17 |
| 0.94% | 0.95% | 1.00% | 0.99% | 1.00% | 1.12% |
Future Direction of SIBOR?
Both chart and data for 3 month SIBOR indicates that we have most likely seen a bottom in SIBOR rates in between 2011 and 2014. Borrowers who fear a spike in SIBOR rates can rest assure as SIBOR rates tends to spike only during financial crisis. In fact, rates have remained well below historically averages despite rising slowly in reent months. Despite that, it will be most prudent for borrowers to take into account of a possibility of a rise of SIBOR to more normal rates of between 2% to 3% when taking a loan so as not to overstretch themselves.