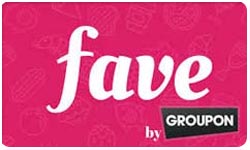 Fave Singapore (previously Groupon) Background
Groupon Singapore was recently acquired by Fave and will be renamed as Fave Singapore. In addition to the deals seen often on Groupon, Fave Singapore also feature popular discounted deals for travel, food and beverages, consumer products, services, beauty & wellness treatments and even for classes or activities, etc. These deals are made possible due to the power of group purchasing and will continue to help consumers save money on their purchases
How to use a promo code
Step 1 : Click on the "Click Here" to reveal the appropriate promo code needed. A promo code will be revealed below the "Promo Code : "and a new window will direct you to Fave Singapore.
Step 2 : Proceed to do your shopping on Fave Singapore in the new window
Step 3 : When you are at the payment page, apply the promo code revealed earlier on our website at the bottom of your payment summary under the heading "Enter Promo Code".